This is an archived article and the information in the article may be outdated. Please look at the time stamp on the story to see when it was last updated.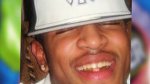 What`s your favorite candy?
Jolly Ranchers perhaps?!
That's not the case if your Dallas Cowboys Safety Barry Church. He missed an entire day of training camp because of the tasty treat. Church chipped his tooth while eating a Jolly Rancher, and ended up having to get a root canal a few days later after the pain became unbearable.
Lucky for Church, his favorite candy comes in a softer variety. He should probably switch.