Judd Apatow 'devastated' by shooting in theater showing his movie
This is an archived article and the information in the article may be outdated. Please look at the time stamp on the story to see when it was last updated.
NEW YORK – Judd Apatow and other members of the "Trainwreck" cast conveyed their condolences on social media following the shooting in a Louisiana theater where the movie was being shown.
Apatow, the film's director, has been outspoken about gun violence.
"One of the reasons we make these movies is because the world can be so horrifying and we all need to laugh just to deal with it," Apatow said in a statement Friday. "So to have this happen in a room where people were smiling and laughing devastates me. My thoughts and love go out to the victims and anyone touched by this madness or any madness. We, as a country, need to find a way to do better."
The first reaction came from the film's star, Amy Schumer, who took to Twitter Thursday night.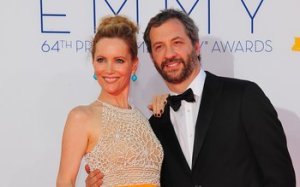 "My heart is broken," Schumer tweeted Thursday. "All my thoughts and prayers are with everyone in Louisiana."
WrestlerJohn Cena, who co-stars as one of Schumer's flings in the movie, also spoke of the shooting.
"Hearing now of the tragedy in Layfayette [sic]," Cena tweeted early Friday. "My deepest sympathies to the victims, their families, and the community."
Universal Pictures, the studio behind "Trainwreck," released a statement on Friday.
"All of us at Universal Pictures send our heartfelt sympathies to the victims of this senseless tragedy and their families in Louisiana," the company said.
Apatow has spoken out in the past about gun violence and even has headlined a gun violence prevention benefit that took place in February, according to Deadline.
"Responsible gun laws are essential. It's shocking that even after all the mass shootings that have happened that there isn't more being done to make our country safer," Apatow told Deadline at the time.
My heart is broken and all my thoughts and prayers are with everyone in Louisiana.

— Amy Schumer (@amyschumer) July 24, 2015