This is an archived article and the information in the article may be outdated. Please look at the time stamp on the story to see when it was last updated.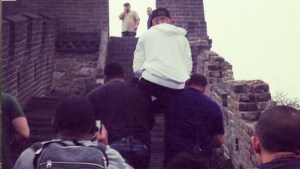 BEIJING, CHINA – Justin Bieber is known for sweeping tweens off their feet, but the teen heart-throb got swept off his.
The Biebs is overseas on tour, and on his downtime he paid a little visit to the Great Wall of China. But instead of going on his own two feet, he had a pair of bodyguards carry him.
Fans also snapped pictures of him playing dress up with a Chinese policeman's hat. We're funs just think he's acting adorbs, but others just think he's acting like a spoiled brat.
With a long rap sheet of dumb behavior, guess we'll just add this one to the list.