This is an archived article and the information in the article may be outdated. Please look at the time stamp on the story to see when it was last updated.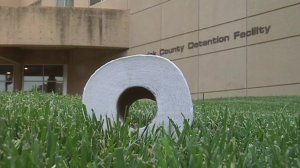 WICHITA, KS – It sure is a pain in the rear when you run out of toilet paper.
Inmates at Sedgwick County Jail are SOL when they run out. They're limited to one roll a week.
"What if you have to use the bathroom and you run out of toilet paper, what do you do then? You supposed to walk around with feces on you? That ain't sanitary," said one inmate.
Sheriff's officials say it's necessary. The county spends a reported $100,000 a year on the toilet tissue.
Officials say the inmates don't just use the stuff for hiny hygiene. They get it wet and stick it to walls and ceilings and intentionally clog toilets.
Some agree with the move. One inmate's family member said, "You break the law, you get up here you have to suffer the consequences."
And in this case the consequence is a soggy bottom.