This is an archived article and the information in the article may be outdated. Please look at the time stamp on the story to see when it was last updated.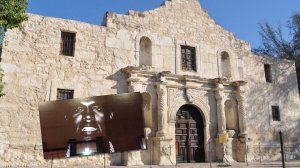 SAN ANTONIO, TX – If you're from Texas, you definitely know the expression, "Remember the Alamo!" Someone probably should've told Kanye West that saying's a famous battle cry and not a suggested location for a music video showing.
West took to Twitter and his website telling fans he'd be showing his newest music video in 66 cities across the world. Too bad he didn't get any of those spots pre-approved, one of which was the Alamo.
West was apparently going to project the video for his song "New Slaves" on the wall of the Alamo over Memorial Day Weekend. Not smart.
San Antonio Police came to the rescue, however, relieving the Alamo from Kanye's showing long before his shoddy music video could disgrace those walls.
As for the adoring fans, they were all sent home. Bless their little hearts!