This is an archived article and the information in the article may be outdated. Please look at the time stamp on the story to see when it was last updated.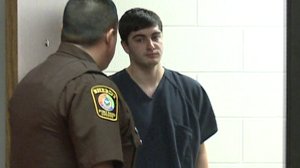 KATY, TX – The Katy teenager charged with bringing a homemade gun to school on Monday, faced a judge first-thing Tuesday.
Thomas Barfield has been charged with possession of a prohibited weapon. More than 3,500 students were evacuated from Seven Lakes High School after his alleged zip gun was found.
Gun expert Jim Pruett says zip guns are homemade weapons that often fire-off nails. He says they are particularly unsafe for the shooter.
"When it goes off are, you going to be safe… the answer is no. It's probably going to blow up in your hands," says Pruett.
No one was hurt at the Katy school. The district says classes resumed as normal on Tuesday.
Barfield has asked for a court appointed attorney.  Bond is set at $20,000.