This is an archived article and the information in the article may be outdated. Please look at the time stamp on the story to see when it was last updated.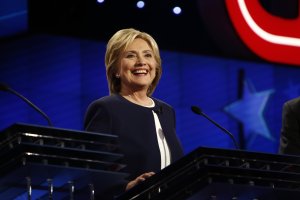 NEW YORK — Win or lose Tuesday, Hillary Clinton has captured a victory from one group of Americans — children.
Kids this weekend picked Clinton as the winner of this year's Kids Pick the President voting contest, hosted by Nickelodeon.
The Democrat received 53% of the more than 900,000 votes cast. Republican Donald Trump earned 36%, and Libertarian Gary Johnson won 11%. Nickelodeon collected votes from October 28 through November 5.
The online poll is informal and not scientific. Nickelodeon markets its contest, which has been held for each presidential election since 1988, as entertainment meant to "amplify kids' voices and opinions and raise their awareness of the electoral process."
The television network notes that kids have correctly chosen the next president in six out of the last seven presidential elections. They chose Democrat John Kerry in 2004 over eventual winner, Republican incumbent George W. Bush.
The 26th Amendment to the U.S. Constitution, ratified in 1971, established that anyone 18 or older may vote.