This is an archived article and the information in the article may be outdated. Please look at the time stamp on the story to see when it was last updated.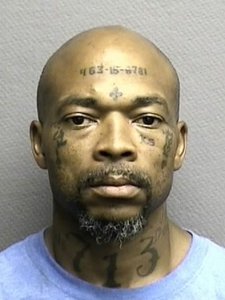 HARRIS COUNTY, Texas — The Harris County Constable's Office is searching high and low for an allegedly armed career criminal with numerous facial tattoos, which includes ink of the suspect's social security number across his forehead.
Robert Charles Wooten, 40, is no stranger to law enforcement as proven by numerous court documents. His criminal resume is colored with indecent exposure, aggravated robbery, violation of a protective order due to violence, burglary and numerous drug-related charges. He has been arrested multiple times, including a conviction for drug possession that dates back to 2007.
Wooten has the area code 713 tattooed across the entire front of his neck.
Investigators have connected the career criminal to at least six armed robberies in Harris County area.
Wooten is currently wanted for stealing cigarettes from a Valero Corner Store on W. 43rd Street in Oak Forest twice last year, the constable's office said.
On Oct. 15, an employee was forced to close the convenience store after the register went down. Officers said several customers, including Wooten, were waiting outside when the store later re-opened. As the group walked in, the suspect allegedly followed the employee and asked him a series of strange questions.
Court documents quote the suspect asking, "You care about your life?"
That's when deputies said Wooten lifted his shirt, revealing a firearm tucked into his waistband on the right side. He demanded the employee give him various brands of cigarettes and the victim complied, investigators said.
The suspect returned to the same store on Nov. 4 to rob more cigarettes, according to police reports.
The constable's deputy was able to identify Wooten as the suspect using his unique tattoo and the Houston criminal database. Wooten has another unique identifying tattoo. A mugshots shows a Houston area code, 713, in large numerals across the entire front of his neck.
Anyone with information regarding the suspect's whereabouts should call Crime Stoppers of Houston at 713-222-8477 or submit tips online at www.crime-stoppers.org. All tipsters will remain anonymous.