This is an archived article and the information in the article may be outdated. Please look at the time stamp on the story to see when it was last updated.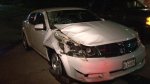 Drivers on the north freeway had to mooooove over early Sunday morning after a cow made a break for freedom. Stacy Holcomb was driving home from her sister's house, crossing over the overpass at gulf bank when she saw the cow running across the freeway.
Thankfully Stacy was ok. The cow wasn't so lucky. Stacy's sister rushed to the scene after hearing what had happened.
No one seems to know where the kamikaze cow came from,  leaving this whole ordeal an udder mystery.