This is an archived article and the information in the article may be outdated. Please look at the time stamp on the story to see when it was last updated.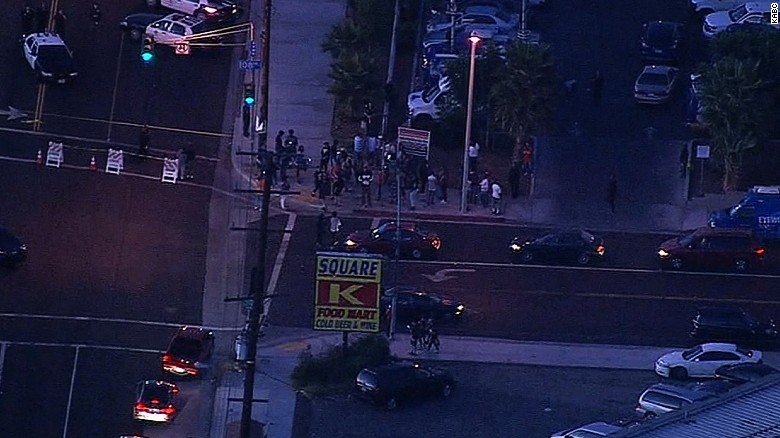 (CNN) — The Los Angeles Police Department says it is investigating after an officer fatally shot a black man following a foot chase.
LAPD officers say the incident started when they tried to perform a traffic stop early Saturday afternoon after spotting a vehicle with paper license plates which they believed to be stolen.
When the vehicle didn't stop, officers pursued the car, authorities said.
The vehicle later slowed to a stop and two male passengers fled on foot in opposite directions, according to the LAPD. Two officers split up to chase them.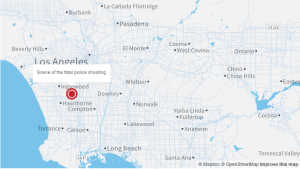 An officer whose name has not been released fatally shot one of the men less than two blocks away from where the foot pursuit started.
Paramedics declared the man dead at the scene of the shooting — the back of a residence where the chase ended.
No officers were injured and a handgun was recovered at the scene, the LAPD said. The driver of the vehicle remains at large, according to authorities.
The Los Angeles Times, which spoke to the victim's mother, identified the man shot as Carnell Snell Jr., 18. His mother, Monique Morgan, was visibly distraught as she told reporters her son was shot five times.
"My daughter got a phone call," she said as she wept. "It said that the police shot him."
When speaking with CNN affiliate KABC, Morgan claimed that the LAPD had not given her any information about her son.
"[The police] won't let me see him," Morgan told reporters. "They said they moved him already. I want to see him."
As with any officer-involved shooting, LAPD's Force Investigation Division will investigate and present its findings to Police Chief Charlie Beck. The chief, along with the LAPD board of commissioners, will determine whether the officer complied with the department procedures.
The Los Angeles District Attorney's Office also plans to review evidence collected during the investigation.
Crowds gathered near the scene of the shooting and remained there into the evening, but the demonstrations were peaceful. Police monitoring the protest initially wore riot gear, but removed it later, according to CNN affiliate KTLA.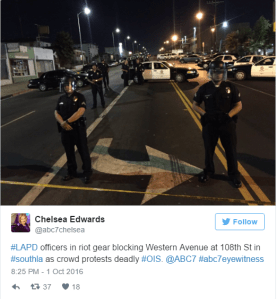 The Los Angeles incident comes in the wake of recent police shootings of black men in El Cajon, California; Tulsa, Oklahoma; and Charlotte, North Carolina. The shooting victims in El Cajon and Tulsa were unarmed, but questions remain on whether the victim in Charlotte had a weapon.