This is an archived article and the information in the article may be outdated. Please look at the time stamp on the story to see when it was last updated.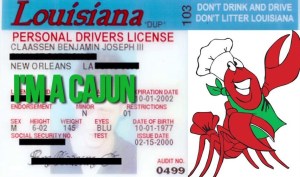 BATON ROUGE, LA – Do you like Cajun food? Just wondering because some people in Louisiana might start taking their Cajun pride to a whole new level.
The Louisiana state legislature is considering a bill that will allow Cajun folks to show their cultural identity on their driver's license and license plates. If the bill passes, anyone who is so inclined will be able to include the short statement "I'm a Cajun" on their ID's and plates for only 5 bucks to help promote the French language.
Now, the bill says nothing about how to prove whether or not someone really is of Cajun descent. To the promoters of this project, it doesn't really matter.
The idea behind this initiative is to add culture to our already rich ethnic mosaic.