This is an archived article and the information in the article may be outdated. Please look at the time stamp on the story to see when it was last updated.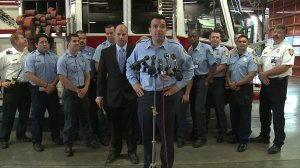 HOUSTON, TX – It's not every day we get to honor our heroes. But for Mike Davis, who has been with the City of Houston fire department for 39 years, this was his time to shine.
Mike was named firefighter of the year by the Independent Insurance Agents of Houston.
"It was a shock to me,' said Mike. 'I had no idea I was even nominated until a week ago."
"I'm very humbled at even being nominated. But it means that I've been rewarded for just being myself," Mike added. "Ask any firefighter out there and they'll tell you: we're just doing our job."
From honoring a hero, to helping our heroes. Local firefighters are hosting Concert "4" Heroes at Discovery Green on July 28th. It's a fundraiser to help four Houston firefighters who were injured in the deadly hotel blaze in May.
"From day in and day out, when a firefighter is injured, it falls on their own. It falls on them to find a way to support their family," said Dennis LaRoche with HFD. "With as many as the current firefighters that have been injured, we're asking the Great city of Houston, all of Texas, to help us."
A fun way to help our heroes who help Houston every day.