This is an archived article and the information in the article may be outdated. Please look at the time stamp on the story to see when it was last updated.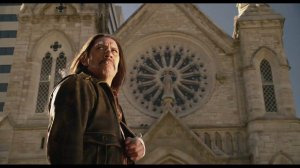 AUSTIN, TX – It was April, 2009, at Troublemaker Studios in Austin, where San Antonio filmmaker Robert Rodriguez and others watched Gov. Perry sign the Texas Moving Image Industry Incentive Program into law.
The idea is to provide state grants to qualifying film productions to keep the work and workers in Texas.
About a month later, the Texas Film Commission reviewed and approved the script for Rodriguez`s Machete, starring Robert De Niro, Jessica Alba, Steven Segal, Don Johnson, Cheech Marin and Danny Trejo in the title role.
Now, Machete's Chop Shop, Inc. Is suing the TFC for backing out of the deal.
The suit says things went south when anti-immigration activists complained after the trailer came out on Cinco de Mayo 2010. That's when the state took back its funding, claiming the film portrayed Texans or Texas in a negative way, according to the suit.
The production company says it spent about $8 million during a month of filming in Texas. The film grossed around $44million, and spun off a sequel that comes out later in the year.
And no, it's not Machete vs. Sharknado, although we might pay real American money to see that one.