This is an archived article and the information in the article may be outdated. Please look at the time stamp on the story to see when it was last updated.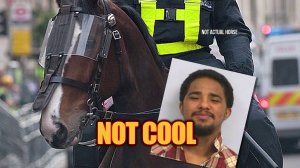 AUSTIN, TX – An Austin man has been charged for acting like a real horse's enemy.
Police say Tyrone Branch crushed the lit end of a cigarette into a police horse, after he and other pedestrians got angry over seeing a woman get arrested. The horse, named Drago, violently jerked his head when he got burned, but he is reportedly recovering well.
Branch got charged with interfering with a police service animal.