This is an archived article and the information in the article may be outdated. Please look at the time stamp on the story to see when it was last updated.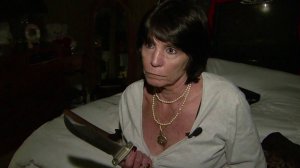 HEMET, CA – From home invasion, to hatchet job! A break-in takes a sharp turn when the homeowner chases off the would be criminals with her trusty tomahawk.
Yeah, don't mess with Robyn Irvine! When the Hemet resident realized she had some uninvited guests in her home, she sprang into action.
Irvine, who just happens to be a former professional axe-throwing competitor, grabbed her weapon of choice from under her bed. That's when the tomahawk tossing champ took hold of her hatchet and edged out the bungling burglars!
Hemet police arrested 22-year-old Nicholas Uolla for burglary. He was found hiding in the bushes, thankful that the cops got to him first.
So anyone else entertaining the thought of robbing Irvine, you better cut it out before she cuts it out for you!