This is an archived article and the information in the article may be outdated. Please look at the time stamp on the story to see when it was last updated.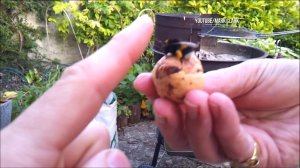 ENGLAND – Normally when you encounter a bee you don't want to touch it. But one man actually high fiving a bee is all the buzz.
Mark Clark admits he was a little buzzed from beer at the time. Not afraid of getting stung, Clark shows that he and the bee are good ole chums.
Bee experts say that bumble bees sometimes raise their legs when they feel threatened.  So the whole high-five may have not been all that chummy; instead more threatening.
Still, we think Clark is the bee's knees for even trying to high five Mr. Bumble in the first place.