This is an archived article and the information in the article may be outdated. Please look at the time stamp on the story to see when it was last updated.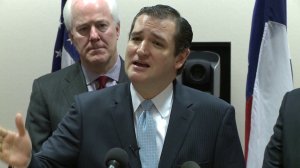 HARRIS COUNTY, TX – It's Houston's turn for a political death threat; but there's no ricin in this incident.
The target was Senator Ted Cruz.
Harris County officials say it all started June 5th when some guy called Cruz's Austin office saying the senator owed him money or a bomb would explode. He then called after the office was closed and left a voicemail. At some point he also called Cruz's San Antonio office and left a similar threatening message that said he would kidnap, murder and burn Cruz and his father.
It gets weirder.
It didn't take long for the FBI to track Nick Gates, 37, down as authorities say he was stupid enough to use his home phone. Agents say he told them if Cruz didn't give him $3 million, the sun would blow up due to government misconduct.
Many agree, Mr. Gates, that the government hasn't been on its best behavior, but the whole sun exploding thing is a bit out there.
Gates admitted to the threats and was charged with a felony. As of Tuesday, he was sitting in Harris County jail.
The guy's got a record of threatening people, so who knows if he'll learn his lesson.