This is an archived article and the information in the article may be outdated. Please look at the time stamp on the story to see when it was last updated.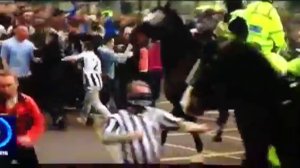 NEWCASTLE, LONDON – If there's one thing about die hard sports fans, it's that they're die hard sports fans! Throw in some team spirit, raw emotion and maybe a little liquid courage and it's the perfect recipe for a riot.
The streets of Newcastle, London turned into utter chaos after a game of soccer. It doesn't matter who won or who lost, or who played who, because what's really getting everyone's attention is what happened during the riot.
In the video, you can see police move in on their horses as the crowd starts getting rowdy. But then one man took it a step further and pulled off the sucker punches of all sucker punches. He punched a police horse. But the guy didn't get far. Police tackled him to the ground and gave him a taste of his own medicine. Dozens of others were arrested. And the dude who hit the horse, you can bet he's going to be facing some charges.