Man swallows a live cobra
This is an archived article and the information in the article may be outdated. Please look at the time stamp on the story to see when it was last updated.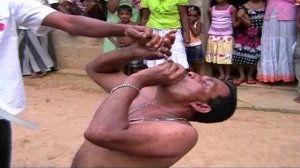 PALMADULLA, SRI LANKA – When most people think about cobras, they get the willies. Not an appetite.
But video shows a 50-year-old Sri Lankan man swallowing a two foot long snake down to its head.
Hello midlife crisis! Once it's all down, the snake gets pulled out unharmed, but still, talk about a gag reflex.
The stuntman says he has to be careful not to ingest any venom (getting poisoned could really screw with his shot at a world record; he`s going to try to swallow two serpents for that!).
If it all makes you shutter, just imagine how the snake feels.