This is an archived article and the information in the article may be outdated. Please look at the time stamp on the story to see when it was last updated.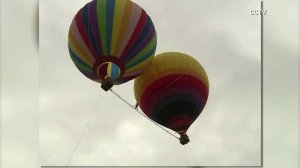 KUNMING, CHINA – In a world where the sun beats down with unrelenting heat, where liquid disappears before your very eyes, where people barbeque dead pig meat on an outdoor marble slab, where candles melt without flame or fire, which are the same thing, really and where people voluntarily turn themselves into boiling dumplings, comes a hero who walks among us, or at least above us.
His name is not important to this story, mainly because it is not easily pronounced.
But the important thing is that this Chinese daredevil walked between two hot air balloons.
We don't know why. Maybe because they were there.
He completed his journey in just over 38 seconds. Good enough to get into the Guinness Book of Records.