This is an archived article and the information in the article may be outdated. Please look at the time stamp on the story to see when it was last updated.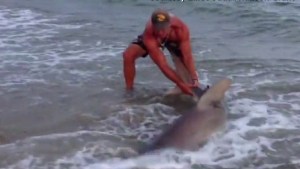 NANTUCKET, MA – 24-year-old Elliot Sudal was fishing with his cousins when he noticed one of his blue-fish had lost half its body.
So he threw it back in the water hoping to lure its predator back. Less than a minute later the shark was back to finish its meal.
That's when Sudal jumped into the water to catch a wrestling partner.
He spent 45 minutes wrestling the seven-foot, 200 pound shark to shore.
Once he got his big catch Sudal took a few pictures; so no one would question his shark tale and then sent his opponent back into the ocean unharmed.
This wasn't the first match for this shark wrestler; he says he's caught more than a hundred sharks in the past eight months.
He's just lucky he hasn't been used as shark bait.
Well one thing is for sure; if a real-life Sharnado ever struck Sudal would be ready.