This is an archived article and the information in the article may be outdated. Please look at the time stamp on the story to see when it was last updated.
CAMP MEDLETON NORTH, CA – Snapchat is supposed to be fun….. right?
In the wake of the Orlando terror attack, two U.S. Marines in Southern California are coming under fire over their connection to a controversial Snapchat picture.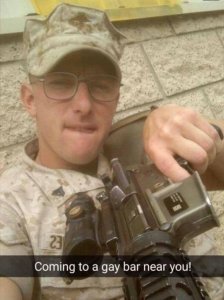 The soldier is holding a rifle with his finger on the trigger– with the caption, "Coming to a gay bar near you!"
The snap was posted on a private Camp Mendleton forum on Facebook, which has more than 25,000 members.
It's since been removed, but the Marine Corp isn't taking this lightly.
The First Marine Expeditionary Force has launched an investigation after the photo surfaced, and has identified the person who posted it.
First Lieutenant, Thomas Gray told the Marine Corps Times it's taking the incident "seriously" and that the Marine Corp "does not tolerate discrimination" or this "type of behavior."
On the heels of Sunday's terror attack on a gay nightclub in Orlando, this is not something you'd want to see from those who are expected to serve and protect all Americans, whether they are gay or straight.