This is an archived article and the information in the article may be outdated. Please look at the time stamp on the story to see when it was last updated.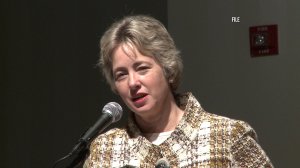 HOUSTON – A mayor is elected by the people, for the people. Houston Mayor Annise Parker is standing with the people, and weighing in on San Diego's Mayor Bob Filner.
If you haven't heard about the Filner scandal, here's a quick re-cap.
He's being accused of sexual harassment by numerous women who worked with him. They allege Filner touched them inappropriately, made lewd comments and more. While Filner has admitted to some inappropriateness, he's pointing the finger at the city. His lawyer says the city didn't provide Filner with proper sexual harassment training dating all the way back to 1993 when he was in Congress.
We know what you're thinking – pathetic excuse. Mayor Annise Parker thinks so, too. She sent out a tweet Thursday morning that said:
San Diego Mayor asks city to defend him cause it didn't tell him sexual harassment illegal? Almost as disgusted by that as by harassment.-A

— Annise Parker (@AnniseParker) August 1, 2013
Trust us, that tweet didn't come from Parker's people. She signed the tweet with '-A', meaning it's a personal tweet from her.
We've got to say that it's nice seeing a public figure telling us how they really feel, instead of blowing hot air.
Take note, Bob!