This is an archived article and the information in the article may be outdated. Please look at the time stamp on the story to see when it was last updated.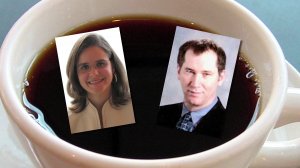 HOUSTON, TX – A doctor may have been using her powers for evil rather than good. So much for the Hippocratic Oath.
Dr. Ana Maria Gonzalez-Angulo is charged with poisoning Dr. George Blumenschein. Both are doctors at M.D. Anderson Cancer Center and involved in a casual sexual relationship, according a complaint filed May 29th.
IT was all in the poisoned brew, a cup of coffee Gonzalez-Angulo allegedly made for Blumenschein, laced with ethylene glycol.
He claimed it tasted sweet, while he likes his coffee black; but a police report says Gonzalez-Angulo urged him to drink it anyway and made a second cup.
Sixteen hours later Blumenschein was admitted to a hospital with central nervous system depression, cardiopulmonary complications and renal failure.
This all happened on January 27th.
Gonzalez-Angulo's attorney Derek Hollingsworth released a statement:
'Dr. Gonzalez-Angulo is completely innocent. She is a distinguished citizen and scientist, and these allegations are totally inconsistent with her personal and professional life. Although I have all the respect in the world for law enforcement, it is clear to me that the University of Texas Police Department jumped the gun in this case and filed charges that should never have been filed. We now have met with the Harris County District Attorney's Office several times and we have been assured that they are going to take a fresh and careful look at this case.  We will continue to completely cooperate with them. I am comfortable that ultimately, they will do the right thing. Because I want the DA's office to be able handle this case without outside media influence, I will refrain from commenting further at this time.'
Gonzalez-Angulo was released May 30th on a $50,000 bond. Dr. Blumenschein is still under medical care.
Certainly there's a lot of this lovers quarrel still untold.