This is an archived article and the information in the article may be outdated. Please look at the time stamp on the story to see when it was last updated.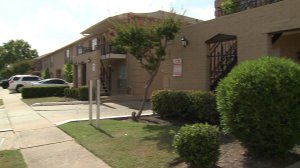 HOUSTON, TX – Like Dorothy said, there's no place like home. Well in Meyerland, there's no home quite like this place.
The Villages at Meyerland apartment complex has slapped a 10 pm curfew on its residents.
"I don't like it," said resident Katherin McMillan.
"What time I come home to my own house, it shouldn't even matter, you know?" said resident Daveon Somerville.
A letter sent to residents says they will be arrested for criminal trespassing if they're caught for a second time outside after 10 p.m., unless they're in route to their apartment. The complex says this comes after a number of residents complained to management about so-called "after hours activities" going on around the apartments.
"They're trying to be like an unreasonable parent, 'oh, be in by 10 pm,' says resident Carl Quezada. 'Okay, these are all adults."
It's aimed at safety, says the owner of the complex. But is it really making residents feel safe?
"I'm worried about how they walk around with their guns and stuff,' says McMillan. 'Sometimes they walk around with them in their hands."
We're not in Kansas anymore.