This is an archived article and the information in the article may be outdated. Please look at the time stamp on the story to see when it was last updated.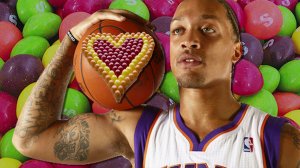 PHOENIX, AZ – NBA player Michael Beasley loves Skittles. Actually that's an understatement, he's addicted to skittles.
And he doesn't sugarcoat his candy habit either.
The Phoenix Suns forward says he eats six or seven packs of skittles a day and that's even cutting back after he stopped bringing them to the arena.
Wonder if he has a skittles machine like derrick rose does?
Beasley said, "My favorite pack is the wild berry, the best, by far. The red pack is original so it`s always going to be good, but that wild berry takes it to another level."
Clearly he's taken his taste for the rainbow to another level.