This is an archived article and the information in the article may be outdated. Please look at the time stamp on the story to see when it was last updated.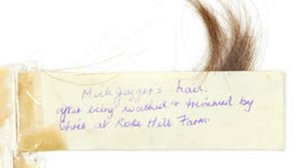 LONDON, ENGLAND – A bit of rock-and-roll hair story goes on the auction block, as the British auction house Bonham's puts some of Mick Jagger's 40-year-old hair up for bids.
That's right, these Rolling Stone locks are were snipped back in the mid-60's when Jagger was sweet on Chrissie Shrimpton, the younger sister of model Jean Shrimpton.
Bonham's says Mick and Chrissie were staying at her parent's farm when her grandmother saved a lock of his hair after he had washed it. She put it in an envelope and gave it to Chrissie's aunt.
Chrissie got it back when the aunt died. Now she's auctioning it off with the proceeds going to charity.
Bonham's thinks they'll get as much as $3100 for the hair. It even comes with the proper papers.
So, you could say that Mick's hair lock is just a bid away.