Miguel crushes fans head during Billboard Music Awards performance
This is an archived article and the information in the article may be outdated. Please look at the time stamp on the story to see when it was last updated.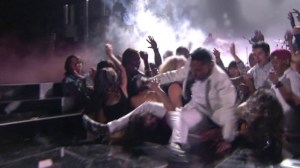 LAS VEGAS, NV – Forget about the Biebs getting booed or Taylor Swift winning another award for her ex-boyfriend. Miguel kicked them all to the curb at last night's Billboard Music Awards, in Vegas.
The R&B singer had fans jumping out of their seats during his live performance
All pumped up, Miguel went all karate kid and jump kicked from one part of the stage to the other.
Just one problem, he landed short and ended up karate chopping a fans neck.
Luckily, the fan was alright. And the 27-year-old continued with the performance.
He later apologized on Twitter and the fan tweeted that she still "Adorns" him.