This is an archived article and the information in the article may be outdated. Please look at the time stamp on the story to see when it was last updated.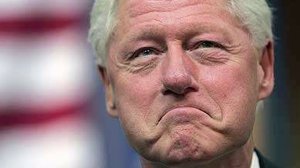 BOCA RATON, FL – "I did not have sexual relations with that woman." Can you believe that was nearly 16 years ago?
While the American people have long forgiven, they certainly haven't forgotten.
In his apology speech he said, "At no time did I ask anyone to lie, to hide or destroy evidence."
Maybe you should have, Bill Clinton.
According to National Enquirer, an audio tape Monica Lewinsky recorded for the former president during the dirty blue dress days has leaked.
It takes two to tango, but from what's reportedly on this tape, it sounds like Lewinsky was on persistent intern.
The alleged three minute, 47 second recording has Lewinsky detailing two options for their next rendezvous, where she says "neither of which is you not seeing me".
There doesn't seem to be anything too racy. There's just a proposal to watch a movie and eat boxed dinners.
But National Enquirer says it also got its hands on mementos and love letters, which are promised to include the good stuff.
The Clinton's supposedly though all of the evidence of the affair had been destroyed.
Can you say 'oval oopsies?'