This is an archived article and the information in the article may be outdated. Please look at the time stamp on the story to see when it was last updated.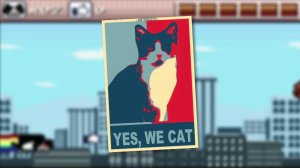 XALAPA, MEXICO – Sick of the political rat race? Yea, you're not alone. The town of Xalapa, Mexico has given up on two-legged leaders, and instead, has taken a "paws" for the cause. Literally.
Check out Morris the cat. He's running for mayor of Xalapa with the slogan: "Tired of voting for rats? Vote for a cat."
Hmm, wonder if he's a demo-cat?
Morris' nomination comes after a growing number of Mexicans finally got fed up with their politicians. And get this: Morris isn't alone. Dogs, a chicken, and a donkey have all turned up on the July 7th ballots across the country.
Morris, though, is by far the most popular. On his Facebook page (which has upwards of a 120k "likes," which is way more than his three opponents), he vows to "rest and romp." Hey, at least he's honest! Morris also says that he'll make a mess in office, but he'll at least cover it up rather than leave it for others to clean up.
Covering his tracks? Eh, sounds like Morris is a typical politician after all.