This is an archived article and the information in the article may be outdated. Please look at the time stamp on the story to see when it was last updated.
KATY, Texas — The Harris County Sheriff's Office has released the name and mugshot of a Katy ISD student accused of making a terrorist threat.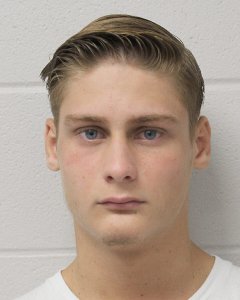 Morton Ranch High School student Braedan McDaniel was taken into custody Monday by district police. The suspect is being considered an adult, school officials said.
District administrators sent the following message to parents:
Fortunately, no students or staff were harmed by the threat, nor were any actions taken by the perpetrator. Communication with our students is the first line of defense to keeping our school safe. I ask that you use this incident as a teachable moment with your child. Please confirm with them the important role they play in keeping our school safe and to report all unsafe issues to an administrator or teacher. I would also encourage you to remind your child that we take all reports of inappropriate comments and threats seriously. As such, students who make threats will be disciplined to the fullest extent allowable by law and District policy.

Safety is our highest priority. With your help, we will continue our commitment to maintaining a safe and secure learning environment for all students.