This is an archived article and the information in the article may be outdated. Please look at the time stamp on the story to see when it was last updated.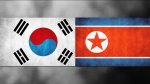 Is it true? Could it be? We'll not put the horse before the carriage on this one, but it looks like NORTH AND South Korea could be moving in the right direction when it comes to repairing their long-time seriously strained relationship. In social media terms, the two country's relationship status will remain "complicated" for a while.
However, apparently Captain crazy of the North, Kim Jung Un, has agreed to a proposal from the South that would resume the reuniting of families who were separated during the Korean War between 1950-53.
The meetings are supposed to happen during a festival on September 19th, but you won't catch us holding our breath!