NASA mission to 'touch the sun': Scientists to make big announcement
This is an archived article and the information in the article may be outdated. Please look at the time stamp on the story to see when it was last updated.
HOUSTON — Even if you're not hot on science, our nation's latest space voyage is sure to get your inner Bill Nye burning.
NASA is set to make a big announcement Wednesday that will shed light on its plans to "touch the sun," according to Newsweek and several other sources.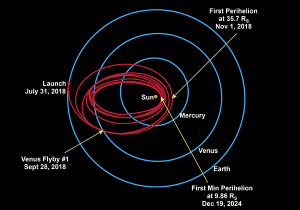 The Solar Probe Plus mission will be the organization's first attempt at flying directly into the sun's atmosphere, where the spacecraft will endure radiation levels and temperatures of up to 1,400 degrees Celsius.
According to the NASA website, the object is to collect new data on solar activity that will help scientist make more accurate forecast of major space weather events that impact life on Earth.
The organization said Solar Probe Plus has three scientific objectives.
First, the goal is to trace the flow of energy that heats and accelerates the solar corona — or the outmost part of the sun's atmosphere — and solar wind.
Second, the spacecraft will determine the structure and dynamics of the plasma and magnetic fields at the source of the solar wind. And lastly, the craft will explore mechanisms that speed up and transport energetic particles.
The project has officially been in the works since 2010 and is scheduled to launch in summer 2018. Of course, after launching, it will take Solar Probe Plus until December 2024 to reach the sun's atmosphere because of a quick flyby around Venus.
A live stream of the announcement will be shown on NASA TV from 10 a.m. CT. You can watch the broadcast here.