This is an archived article and the information in the article may be outdated. Please look at the time stamp on the story to see when it was last updated.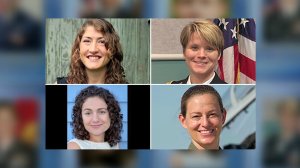 TEXAS – 8 new astronauts have been picked by NASA and 4 are women. Is the fact that half the candidates are ladies by design?
Janet Kavandi, Director of Flight Crew Operations at Johnson Space Center explained, "Those 4 women, in every right, earned their right to be there.  They were extremely competitive with all the candidates and we didn't even realize that we ended up with half men and half women until we actually looked at the list at the end, and we went, wow, this is the first time we've ever had this happen, where half of the people we selected are really incredibly qualified women."
The big announcement came a day before the anniversary of the first American woman to fly into space. Sally Ride went into low earth orbit 30 years ago today.
"It's very coincidental. I'm sure that people think it was planned this way but truly it's kind of surprising that it happened all the same day."
Whether this new group will land on an asteroid or on Mars is yet to be seen, or even what aircraft they may pilot. One thing is for sure, women are playing no small role in space exploration.