This is an archived article and the information in the article may be outdated. Please look at the time stamp on the story to see when it was last updated.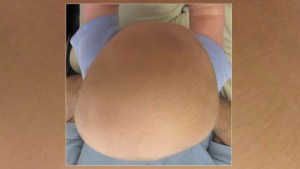 CALGARY, CANADA – It's always a joy to watch a little baby sleep, but beware, his head may be going flat.
A Canadian study published in pediatrics magazine says nearly half infants now have flat heads.
The reason you ask? Since the mid 1990's parents have been urged to place infants on their back to reduce the risk of sudden infant death syndrome while they sleep.
Sometimes the change in head shape is difficult to notice; but in others it could be severe enough to change facial features as well.
Since numbers aren't available on the subject from the past, the increase in flat heads may be because people are just more aware of the issue.
The answer could be to just keep an eye on your kids and move them around, so there isn't pressure on one spot. Also make sure they get time on their tummy.
Flat head or not; we wouldn't love our kids any less.