This is an archived article and the information in the article may be outdated. Please look at the time stamp on the story to see when it was last updated.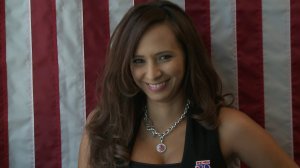 HOUSTON, TX – It's hot in Houston folks; but temperatures are about to soar. Erica Rico, the New 93Q Country's DJ has been named the "Hottest Woman in Radio" for 2013.
The TheKayeList.com crowned Erica as the nation's top on-air beauty, out of 10,000 nominations.
"One of the things I love most about Houston," said Erica. 'Is that everybody's so supportive, especially our country listeners. I owe it to them really because they're the ones that voted for me."
A proud mother of four and a country music lover, Rico says she has no free time at all. It looks like her co-hosts at the "Q Morning Zoo" have something to do with her successful campaign:
"We're gonna get the cat out of the bag,' announced Kevin Kline. 'We voted anonymously one million and two times for Erica so that she would win this."
But there's no need to be jealous. Next year one of the guys could bring the trophy home.
"I think I can win it,' joked co-host Tim Tuttle. 'Earlier today I did 4,000 push-ups."
But the crown has not changed Erica: "Everybody is making a huge deal out of it… I tried telling my daughter: hey, I'm the hottest woman in radio!  She's like: you're in your pajamas, changing a baby's diaper with flour from the cookies on your face… you're making me clean my room — you're not all that popular."
Well, if you're not there yet, Erica — you're definitely on the right track.