This is an archived article and the information in the article may be outdated. Please look at the time stamp on the story to see when it was last updated.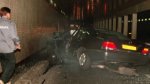 LONDON, England  –It's been 16 years since we lost the people's princess and now new evidence has emerged that has London's Metropolitan Police taking another look at Princess Diana's death.
During a recent court case involving members of Britain's special forces unit, a letter written by a soldiers former in-laws has surfaced. In the letter, which London police confirm they do have a copy of, the soldier's estranged wife claims her ex-husband told her his special forces team was behind the arranged killing of Diana and that it had been covered up.
London police say they are investigating the credibility of the claim but are not reopening the case of Diana's death just yet.