This is an archived article and the information in the article may be outdated. Please look at the time stamp on the story to see when it was last updated.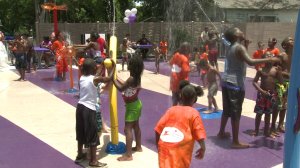 HOUSTON, TX – The city partnered with Reliant to provide the neighborhood with a splash pad.
Last year, budget constraints caused the closure of several of the community's public pools. But this park can't close. It essentially pays for itself since it runs on solar panels, giving families a safe place for their kids to play in the summer for no cost.
"When you pass by here on the weekends or in the evenings, the park is just full of families, full of life. This definitely helps us create an environment where people actually live, work and play here in the Fifth Ward," said Kathy Payton, president of the Fifth Ward CRC.
The splash pad is just one more step toward reviving this historic part of our city.