This is an archived article and the information in the article may be outdated. Please look at the time stamp on the story to see when it was last updated.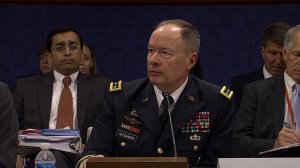 WASHINGTON, DC – National Security Agency head, Gen. Keith Alexander, got lost on his way to the House Permanent Select Committee on Intelligence to answer questions about the way the government collects telephone and internet information on American citizens.
When he finally got settled in, he did what everyone expected. He reminded the members of Congress that they have been in on the gig from the get-go, and that, in his opinion, the ends justify the means: "These programs were approved by the administration, Congress and the courts. From my prospective a sound, legal process that we work together as a government to protect our nation and our civil liberties and privacy. Ironically, the documents that have been released so far show the rigorous oversight in compliance our government uses to balance our security with civil liberties and privacy. Let me start by saying that I would much rather be here today debating this point than trying to explain how we failed to prevent another 9/11."
Without going into specifics, he told the committee that the information gathered has thwarted more than 50 potential terror attacks in more than 20 countries.
Two of those events included a plan to blow up the New York Stock Exchange, and the other was a plot to set off a bomb in a New York City subway station.
"I think the way it has comes out and the way it looks is that we are willfully doing something wrong when in fact we are using the courts, Congress and the administration to make sure that everything we do is exactly right."
The FBI is using a common surveillance tool, video cameras, to find the person who set off a bomb in New York's Time Square in 2008. The video shows a person riding up on a bicycle, lighting a fuse, jumping back on the bike, and riding off into the night.
There's a $65,000 reward for information leading to the conviction of the person who did this.
As always, if you know something, say something. You know the number.