This is an archived article and the information in the article may be outdated. Please look at the time stamp on the story to see when it was last updated.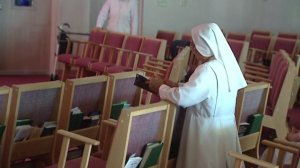 SAN ANTONIO, TX – As the San Antonio Spurs take on the Miami Heat for Game 7 of the NBA Finals, back in Texas they have some unlikely cheerleaders.
The Salesian Sisters of St. John Boscoe are calling on higher powers for the Spurs to win it all.
The spurs need all the prayers they can get. Tonight they'll try to come back from their devastating loss to become the first road team in 35 years to win game seven of the NBA Finals.