This is an archived article and the information in the article may be outdated. Please look at the time stamp on the story to see when it was last updated.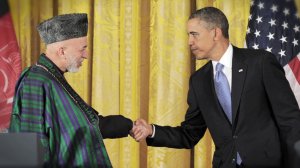 WASHINGTON, DC – President Obama may have had enough of Afghanistan's President Hamid Karzai, so much so that he is reported to be seriously thinking about speeding up the withdrawal of U.S. forces from Afghanistan.
The plan has been to end U.S. military involvement in Afghanistan by the end of next year, but to leave a small force behind.
But the fragile relationship between Obama and Karzai apparently went south recently during a video conference that was supposed to help the two presidents kiss and make up.
Reports say Karzai accused Obama of trying to work out a separate peace deal with the Taliban and their Pakistani pals, which may not be so good for Karzai's plans to continue breathing once U.S. forces leave for good.
President Obama is reported to have reminded Karzai of the thousands of American who have died keeping Karzai in power.
Even so, the idea of pulling out early has caused friction between the white house and American commanders in Afghanistan.
The U.S. has about 63,000 troops in Afghanistan, with about 30,000 scheduled to leave by next February.
With the way the Karzai government is acting, it looks like American commanders in the land of bones won't be sad to pull out completely by this time next year.