This is an archived article and the information in the article may be outdated. Please look at the time stamp on the story to see when it was last updated.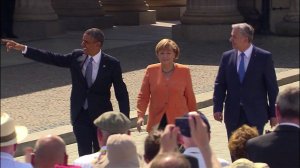 BERLIN, GERMANY – Five years ago when a couple of hundred thousand people showed up to hear then-candidate Barack Obama declare himself a citizen of the world.
A smaller crowed showed up this time at the Brandenburg Gate, mostly invited guests.
But the American President gave them a good show, even stripping down to his shirtsleeves because of the heat.
He then talked to the German crowd about his domestic issues, like the use of drones and intelligence gathering against Americans, "We must move beyond the mindset of perpetual war and in America that means redoubling efforts to close the prison at Guantanamo. It means tightly controlling our use of new technology like drones. It means balancing the pursuit of security with the protection of privacy and I'm confident that balance can be struck."
Meantime, the political jackets have come off in Afghanistan.
One day after the United States said we wanted to sit down to talk with the Taliban, a Taliban suicide bomber killed three people in an attack on a member of the Afghan parliament, and four Americans died in a rocket attack near Bagram Air Force Base.
Now, afghan president Hamid Karzai says he will not talk with the Taliban until the US pulls out of the negotiations and until the Taliban stops blowing up people.
Yeah, like either one of those things is going to happen.