This is an archived article and the information in the article may be outdated. Please look at the time stamp on the story to see when it was last updated.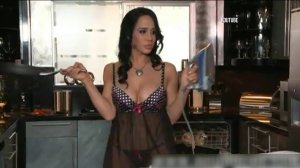 LOS ANGELES, CA – The Octomom may be in Octo-trouble, again.
TMZ reports Los Angeles County welfare investigators are looking at Nadya Suleman for welfare fraud.
Someone dropped a dime on the mother of fourteen kids, claiming she made more than $200,000 last year.
LA County says she cannot collect food stamps and other government support if she earned more than $119,000.
Some of that 200-grand may have come from her Octo-porn work on her Octoporn site, or her Octo-pole dancing, where she shook her Octo-booty, or her Octo-video career, 'brief' though it may have been, so to speak.
She went off the public dole last year, but had to get back on welfare in January, apparently because she spent all of her savings when she went into re-hab.
If LA County determines she committed Octo-fraud, her Oct-money maker could end up in the Octo-pokey for three years