This is an archived article and the information in the article may be outdated. Please look at the time stamp on the story to see when it was last updated.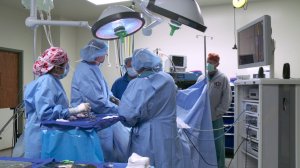 OKLAHOMA CITY, OK – Have you been to the doctor lately? If you don't have insurance, probably not.
Getting a broken arm or leg fixed can actually cost you… an arm and a leg! And chances are, you won't even know the cost until the bill arrives. But one hospital in Oklahoma City is changing all that.
Surgery Center of Oklahoma posts their procedure prices online, and they seem to be a pretty good deal.
"What we've discovered is that surgery really doesn't cost that much," says Dr. Keith Smith with the Surgery Center. "What people are being charged for is another matter altogether."
Amen to that! A $3505 breast biopsy at Surgery Center will run you more than $16,000 at OKC's Mercy Hospital. And a $5,865 gall bladder removal there cost a patient more than $21,000 at the O.U. Medical Center!
The upfront pricing has folks flying in from all over to grab a deal. 22-year-old Matthew Gang didn't have insurance when he dislocated his knee cap playing ball. It was going to cost $30,000 to fix it in California, but Surgery Center did it for less than $6,000.
"It was well worth it," says his dad Tom, "I'm thinking about flying out there and having them do my rotator cuff surgery because it was such a positive experience."
Other Oklahoma medical spots have responded, posting their prices online, too. But don't expect the big hospitals to follow suit.
Craig Jones with the Oklahoma Hospital Association explains, "Surgery centers– most of the work that they do are elective procedures, and they're a bit more predictable in the sense of what it is they're going to do."
Here in Houston, medical providers we talked to said they don't plan to post prices online, but maybe it's time they start. As the price of everything goes up, knowing what a doctor will charge might be just what the patient ordered.