This is an archived article and the information in the article may be outdated. Please look at the time stamp on the story to see when it was last updated.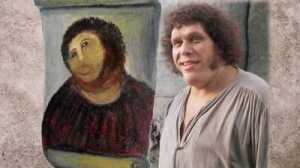 BORJA, SPAIN – Sometimes, when you want something done… do it yourself. This was not one of those times!
A little old Spanish lady in her 80's took it upon herself to touch-up a badly damaged, 200 hundred year old portrait of Christ called "Ecce Homo" at her local church in Borja, Spain. Also, she wanted to surprise the church and never told anybody about her good deed. The problem was that her rendering looked nothing like Jesus, but more like wrestling legend Andre the Giant!
The church found out after receiving a significant donation from the original artists (Elias Garcia Martinez) granddaughter because that portrait was the only known work by the painter in that part of Spain. They couldn't help noticing the updated look.
The town is turning to the art community to see if anyone can fix the painting.