This is an archived article and the information in the article may be outdated. Please look at the time stamp on the story to see when it was last updated.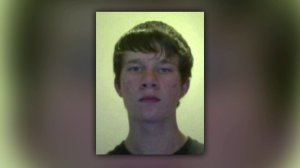 ALBANY, OR – Students at an Oregon high school were back to school Monday, but they probably weren't talking about the Memorial Day weekend.
Absent from school was Grant Acord. He made his first court appearance, arraigned on 18 charges including aggravated attempted murder. His bond was set at $2 million.
Police say the 17-year-old was planning a bomb and gun attack at West Albany High School. The plot was foiled after another student spoke up.
"We owe our undying gratitude to the student and his family who turned in the kid who was responsible for the potential massacre," said student body president Sawyer Reid.
Police say the whole thing was inspired by Columbine.
It was a chilling realization when authorities discovered six homemade explosives — including a Napalm bomb, pipe bombs and molotov cocktails — written plans, checklists and a diagram of the school hidden in the floorboards of his bedroom.
Acord's mother says he suffers from a rare form of OCD called PANDAS.
Now the troubled teen will be tried as an adult for an incident that could have had the worst of consequences.