This is an archived article and the information in the article may be outdated. Please look at the time stamp on the story to see when it was last updated.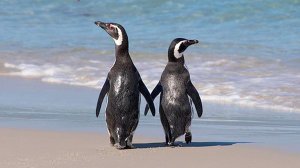 ARGENTINA – If they weren't so dang far away, we would suggest they lead a marriage retreat!  But then again, they are penguins!
According to the Telegraph, scientists in Argentina just found a pair of penguins who have been together for 16 years.  They have traveled some 200,000 miles over that time, but always return to the same nest and loving wings.
Apparently penguin partnerships tend to last a few years, but often get cut short by death or 'divorce' (when they can't have chicks)  Unfortunately commercial fishing, oil pollution and climate change are reportedly threatening lovebird lifespans now too.
Anyway, at least one thing here is for sure:  this is an awesome, real life, happy feat!