This is an archived article and the information in the article may be outdated. Please look at the time stamp on the story to see when it was last updated.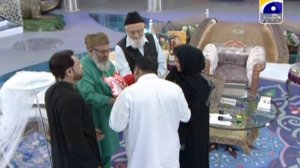 KARACHI, PAKISTAN – These days when you think of the Middle East, war comes to mind but this story is about a different kind of war, a TV ratings war.
Meet Aamir Liaquat Hussain. He's Joel Osteen, Emeril Lagasse and Oprah rolled into one. Hussain hosts a 7 hour Ramadan TV special where hundreds vie to be in the audience. What makes his show stand out from the other marathon Ramadan shows is he gives away babies.
Hussain says, "We've created a symbol of peace and love. That's our show's theme to spread love. I'm setting an example, giving a childless couple an abandoned child."
Oprah only gave away cars; so is this guy better than Oprah?
"At Christmas there's Santa Claus to give everyone gifts, it;s important for Christians. For us Ramadan is a really special time. So it's really important to make people happy and reward them," says Hussain.
The couple who received the baby seemed pleased and stunned.
"I was really shocked at first,' says new mom Suriya Bilqees. 'I couldn't believe we were given this baby girl. I was extremely happy".
"We weren't complete. This baby has made a house out of a home" says husband and new dad, Syed Zulfiqar Hussain.
This wasn't a random couple; they'd registered with the welfare group that provided the baby girl and already had 4 or 5 counseling sessions.
Razman Chhipa who runs the welfare agency that saved the baby says, "Our team finds babies abandoned on the street- in garbage bins, some of them dead, other mauled by animals. So why not insure the baby is kept alive and gets a good home?"
In the meantime mega host Hussain is already planning his next baby give-away, and a ratings victory party.