Pat Robertson to Women: Men like to 'wander'
This is an archived article and the information in the article may be outdated. Please look at the time stamp on the story to see when it was last updated.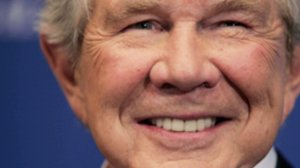 VIRGINIA BEACH, VA – For some people, when TV preacher Pat Robertson speaks, it's like: from God's mind to pat's lips.
That's why it was so strange to hear Robertson's advice to a woman whose husband had strayed.
When she told Pat that it's hard for her to forgive, Pat let her, his co-host, and every woman in the free world in on the secret:
'Stop talking about the cheating. He cheated on you. Well, he's a man. OK.'
But old Pat was on a roll and didn't stop there.
'Recognize also, like it or not, males have a tendency to wander a little bit. What you want to do is make a home so wonderful that he won't want to wander.'
Hmm. Wonder if this is what pat tells the missus.
Anyway, Pat told the woman to focus on why she married her big strong man in the first place, things like supplying a roof over her head, food for her belly, and clothes for her back.
And then he told her to reach out to the low-down, no-good, cheatin' husband and touch him.
Ladies, he meant in a loving way, and not in a way that involves sharp edges and tender body parts.