This is an archived article and the information in the article may be outdated. Please look at the time stamp on the story to see when it was last updated.
HOUSTON — A local man is out on bond after he was accused of interfering with a traffic stop over the weekend near the Humble area, the Harris County Pct. 4 Constable's Office confirmed.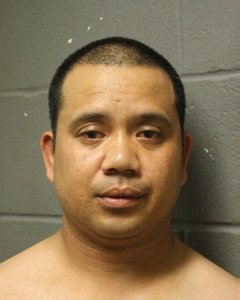 Adam Liwis, 40, is charged with interfering with the duties of a public servant.
Officers were conducting a traffic stop Saturday in the 7200 block of Fox Hall Lane when the suspect approached them. Investigators said Liwis continually disregarded the orders of the deputies to stop interfering and to stay away from the vehicle.
The suspect reportedly was warned several times to stop but he continued to interfere by interjecting himself into the traffic stop, yelling at the officer, drawing the officer's attention away from the traffic stop and even attempting to enter the marked police vehicle.
The suspect was detained and identified.
Liwis was booked into the Harris County Jail, where his bond was set at $500.